Journey into Australia's Golden Outback and explore some of the best landscapes and stunning skies the world has to offer!
What to See & Where to Go


There's plenty to see up in the night sky and the great thing is that each night brings a new view! There are planets, the Moon, meteor showers, eclipses, comets and constellations!
We've done the research, checked through the 2022 astronomy almanac, considered rising and setting times, when the Moon is up and have come up with our best stargazing WA sights for 2022.
More importantly we've also suggested places where you'll find a great stargazing experience! We've mixed and matched special Dark Sky destinations with the best stargazing highlights which makes it even easier for you to find the perfect experience.
Let's head out into Australia's Golden Outback and check out what and where the best stargazing will be!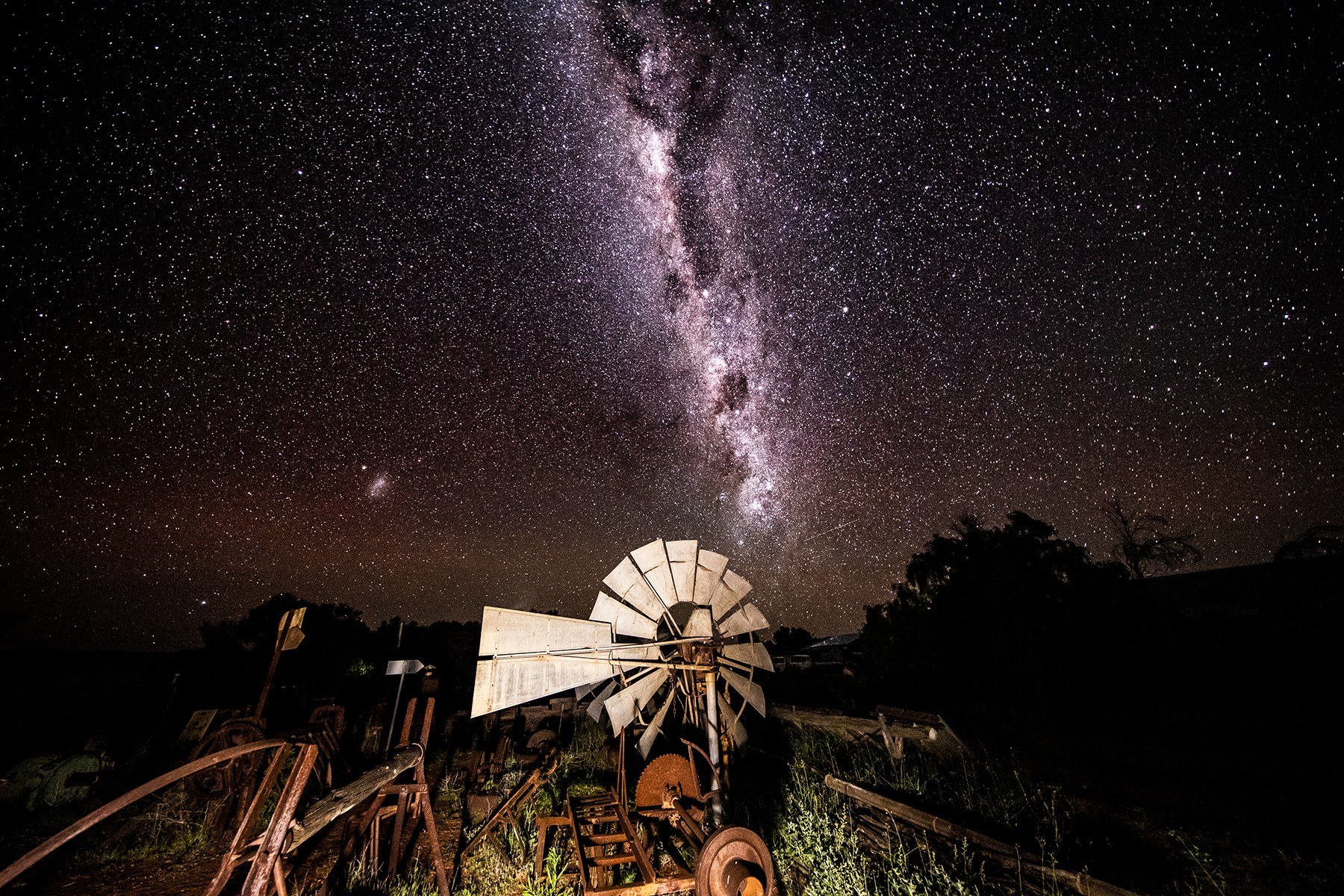 Summer Stargazing WA
The Magellanic Clouds are our Milky Way's neighbouring galaxies and can be seen with the naked eye without a telescope or binoculars. All you need is a very dark night sky with no moonlight. There's one waiting for you at The Salmons near Perenjori.
Six Mile Cottage near Darkan is perfect for astrophotography. If you find your way there in February, a great photography target will be the rising planets of Venus, Mars and Mercury. It will be an early morning image and especially early risers might be able to capture four deep sky nebulae in their images of the eastern sky! Just look out for pink smudges within the Milky Way arms.
Autumn Stargazing WA
Watching a full moon rise is a timeless and beautiful event. Take a picnic and a great bunch of friends to Lake Yealering just outside of Wickepin. You'll see the Moon rise over the water from your very own campsite.
The Southern Cross is Western Australia's most iconic constellation. It's on the flag and in our hearts! Did you know it can only be seen from the Southern Hemisphere? In Autumn, you can track it over time as it graces the southern skies. Head to Yilliminning Rock near Narrogin for a spot of stargazing. Visitors are welcome after dark.
Winter Stargazing WA
The Milky Way Season is underway! If you've never seen the Milky Way on a moonless night in country WA, winter is the perfect time to experience it. Sometimes this thick band of stars looks so close, you could almost reach out and touch it. Koolanooka Springs is a rocky bush landscape near Morowa and is a great dark sky location for stargazing.
If you're an astrophotographer who wants to capture images of the Milky Way over nightscapes, try Lake Ballard. This salt lake is famous for its statues, and is located close to the town of Menzies!
Spring Stargazing WA
The Geminids Meteor Shower is going to be spectacular this year. The peak of the meteor shower occurs when there's no moonlight in the night sky. Lake Ninan near Wongan Hills will be a great location for counting shooting stars!
There's a blood moon rising during November! The eclipse is already underway when the moon rises in WA but it will still be fun to see. Why not head out to Avoca Farms near Narembeen to watch this beautiful display of cosmic clockwork.
When summer starts again, hit the road to the southern Wheatbelt. The Jam Patch near Lake Grace will provide a wonderful setting to see Jupiter at its biggest and brightest during opposition in late September.
You're all set for 2022. What to see in the night sky and the best places to go are at your fingertips.
Now all you need to do is plan your holiday getaway in country WA and put yourself amongst the stars!