Where to see Wildflowers in the Wheatbelt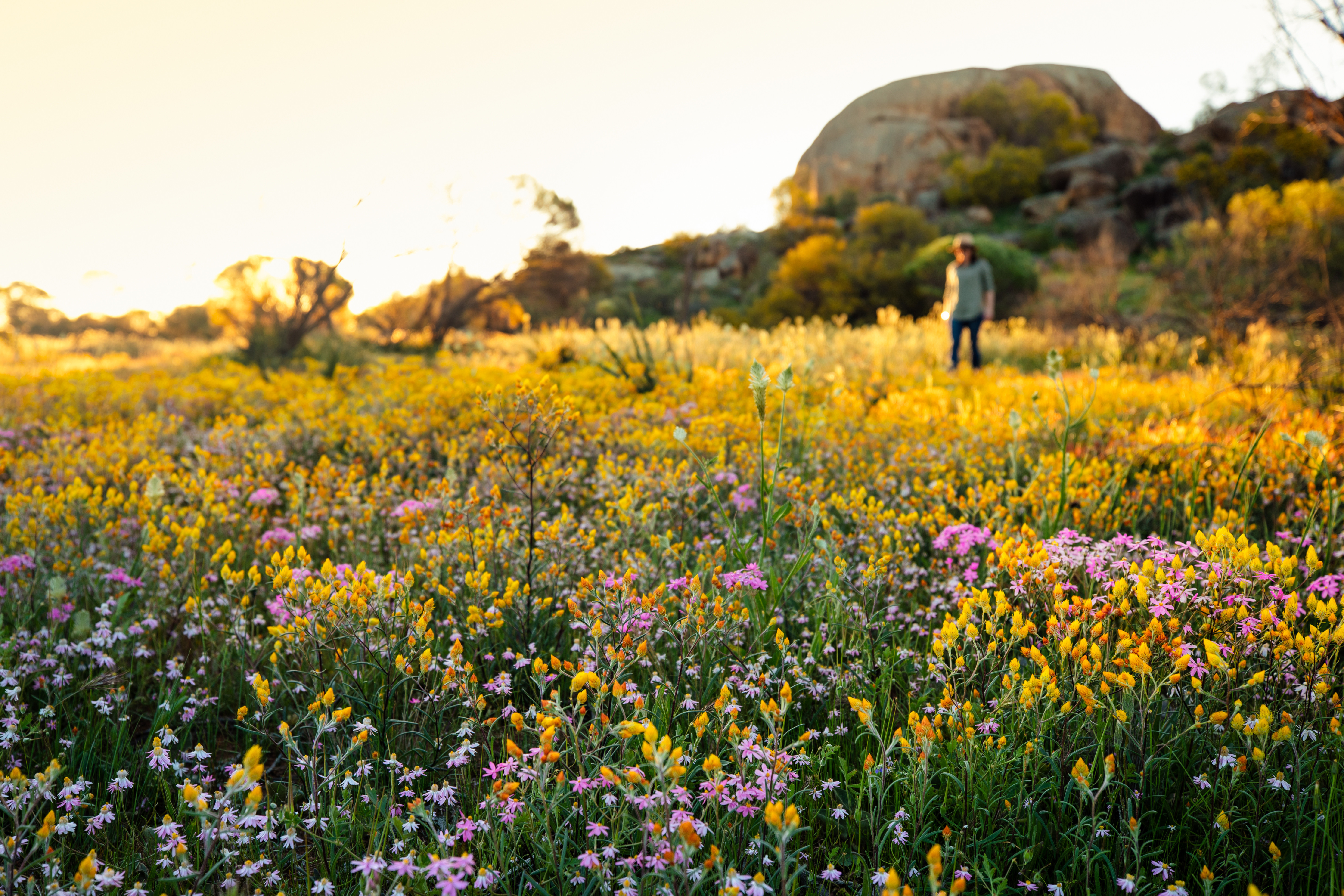 From August onwards, Western Australia's wildflower wave starts to descend down into the northern Wheatbelt - and you'll soon start to see dazzling arrays of wildflowers and fields of canola spreading across the landscape. Even on a dry year, the orchids tend to come out in abundance, but on a good year, the Wheatbelt has some of the best wildflower displays in the world.
One of the biggest regions in the state, the wildflowers of the Wheatbelt are as varied as the landscapes - from rolling hills and Monastic towns to farming hotspots, huge salt lakes and giant granite rocks dotted with colourful paper daisies.
In terms of flowers, you can expect to find everything from everlastings, pom poms, mulla mulla, wreath flowers, verticordia, banksia, sundew, mouse ears, fringed lilies, boronia, verticordia, scented custard powder grevillea, eromophilia, phebalium, macrocarpa, bottlebrush, thousands of varieties of orchid, and many more.
Download the 2023 Central Wheatbelt Wildflower Guide here.
The Northwestern Wheatbelt - Wildflower Country
The northeastern Wheatbelt is one of the best places to see wildflowers in Western Australia, with carpets of everlastings and wreath flowers attracting visitors from all over. Encompassing part of the Golden Outback, Wildflower Country also extends further west to the coast, including Mullewa, Coalseam Conservation Park, Mingenew and Coorow.

• Morawa - the bush around Morawa is filled with colourful blooms every spring, including native foxgloves. Koolanooka Springs, Bilya Rock & War Rock are also worth a visit.
• Perenjori - you can often find wreath flowers here along with amazing carpets of wildflowers, especially further out towards Camel Soak and Karara Rangeland Park (4WD).
• Wubin - around Wubin and Dalwallinu the wildflowers can be spectacular. Highlights include Petrudor, Jibberding, Xantippe Tank, Buntine Rock (4WD) and Mia Moon.
• Dalwallinu - famed for its wattle and its wildflowers, the Gateway to Wildflower Country is a great place for flower-spotting. Home of the Wattle Week Festival every September.
• Wongan Hills - there are over 1,200 varieties of wildflowers in Wongan Hills. Gathercole Reserve and Reynoldson's Reserve are especially iconic - the latter hosting the Reynoldson Reserve Festival Weekend at the end of the season.

Take a peek at the three-day Wildflower Way and Everlastings Wildflower Trail self-drive road trip itineraries for more inspiration.
The Northeast Wheatbelt - along the Wheatbelt Way/Pioneers Pathway
Northeast of Perth, the Wheatbelt Way and Pioneers Pathway are amazing road trip trails that encompass heritage towns, pioneer history and amazing views over the bush, with rolling hills, salt lakes and huge granite rocks that spring into colour after a nice wet winter.
• Beacon – Billiburning Rock is home to many spectacular wildflowers right on the edge of the Wheatbelt with views across to Karoun Hill Nature Reserve (and it is also a great spot for birdwatching). Make sure you plan your trip for the Monday Beacon Guided Wildflower Tour.
• Bencubbin – Marshall Rock is a wonderful spot to enjoy 360 degree views of the surrounding farming landscape and at the base of the rock you will be treated to wonderful displays of white and yellow everlastings as well as Spider Orchids and much more.
• Dowerin - Tin Dog Creek Reserve has many flowers in season, while Namelcatchem Reserve and Minnivale are also well worth a visit.
• Koorda - famed for its verticordia and Koorda Rose, Koorda Native Flora Reserve and Mollerin Reserve are beautiful, as is Newcarlbeon Rocks, where you can camp out under the stars.
• Wyalkatchem - the Wyalkatchem Reserve, Korrelocking Reserve and the golf course are usually full of flora and fauna every springtime, including fields of everlastings.
• Trayning - Billycatting Reserve is home to insect-eating plants, while the gnamma holes north on Bencubbin Road have lots of orchids.
• Nungarin - Check out the wildflowers at Eaglestone Rock, Talgomine Reserve & Danberrin Hill, where you can see (and smell) the native vanilla bush. Mangowine Homestead is also amazing, so swing by if you get the chance.
• Westonia - Elachbutting Rock and the Woodlands & Wildflowers Heritage Walk in the Westonia townsite are highlights, with plenty of orchids and everlastings. Sandford Rocks and Boodalin Soak also have lots of orchids.
• Mukinbudin, between Mukinbudin and Bonnie Rock, there are heaps of amazing wildflowers, especially around Beringbooding Rock - 72kms north - where you can find eromophilia, pink tea tree and many more.
For more info on wildflowers in the northeastern Wheatbelt, take a look at our Granite Wildflowers and Granite Loop Wildflower Trail self-drive road trip itineraries.
During spring, you can see wildflowers all along the side of the road and in the reserves as you traverse the Great Eastern Highway. Roughly following the Golden Pipeline with its precious water cargo between Mundaring and Kalgoorlie, you'll find heaps of native wildflower hotspots, but these are just a handful of our favourites.
• Cunderdin - Cunderdin Hill and Bulgin Rock Reserve are great spots for everlastings.
• Tammin - Check out the Charles Gardner Reserve and Yorkrakine Rock, a solid granite outcrop surrounded by native wildflowers.
• Merredin - Merredin Peak has a rich Aboriginal history as well as plenty of beautiful wildflowers, including sundews and green-veiled shell orchids.
• Kellerberrin - Kellerberrin Hill is a beautiful wildflower spot offering amazing views over town, while nearby Durokoppin Reserve is home to heaps of colourful flowers.
• Southern Cross - follow the Yilgarn Wildflower Drive and check out all the wildflower reserves off the Great Eastern Highway between Southern Cross and Coolgardie, including Yellowdine Nature Reserve, Karalee Rock, Boorabin National Park and Boondi Rock.

Feeling inspired? Check out our Goldfields road trips: the Granite & Goldfields Wildflower and Goldfields Wildflower Trail to find out more.
While it isn't really surprising how different parts of the Wheatbelt can be from others given the sheer size of it, it can still feel like you're visiting a totally different region, where the climate and landscapes are different - and the wildflowers are too. Here are some of the best places to see wildflowers in the eastern Wheatbelt.
• Bruce Rock - check out the Jura Wildflower Drive along with Bruce Rock Reserve. Nearby Kwolyin and Kokerbin Rock are also colourful wildflower hotspots.
• Narembeen - see boronia, verticordia and drosera in nearby reserves, like Hidden Hollow, Twine Reserve and Anderson Rock Reserves.
• Corrigin - starting opposite the Dog Cemetery, Corrigin Wildflower Drive has loads of great wildflowers to offer, as does the Corrigin Wildflower Reserve, where you can see (and smell) custard powder grevillea, green-veined shell orchids and phebalium.
• Kondinin - go orchid spotting at Yeerakine Rock and check out acacias and phebalium at Bendering and North Kalgarin Reserves.
• Hyden & Wave Rock - while Wave Rock steals the show, the wildflowers are pretty great too, with wattle, scarlet bottlebrush, grevillea and orchids blooming all around it.
• Kulin - the macrocarpa walk is pretty spectacular when they're in full bloom, as is North Jitarning Nature Reserve, while Hopkins Nature Reserve is a prized floral conservation area.
• Lake Grace - known for it's Orchids and diverse range of unique wildflowers. The Jam Patch nature reserve and Kwongan Heathland walk are popular hotspots.
Discover even more about the wildflowers in the eastern Wheatbelt on the Wave Rock Wildflower or Coastal Wildflower Trail road trips.
Southern Wheatbelt
Southeast of Perth, the Southern Wheatbelt is another prime place to see wildflowers in Western Australia, with places like Dryandra Woodland and Williams Reserve just about close enough to make a wildflower day trip from Perth.
• Dryandra Woodland - home to plenty of native flora and fauna, including an abundance of wildflowers during spring, you can also stay overnight and take a nocturnal wildlife tour.
• Narrogin - there are heaps of great places to go wildflower spotting around Narrogin, including Foxes Lair Nature Reserve, Yilliminning Rock and Highbury Nature Reserve, where you can see everlastings, orchids and kwongan flowers.
• Williams - Just off Albany Highway, Williams Nature Reserve is another great spot to see an array of colourful wildflowers - and a nice easy stopover on the way down south.

For more inspiration, check out the Wheatbelt & Winery Trail or the 7-10 day Esperance Wildflower Trail.