Comprising two self-drive routes, the Leonora Loop Trails are a great way to soak up the stories and atmosphere of this fascinating part of the Northern Goldfields. The trails demonstrate the incredible tales of survival as Europeans set out to make their way (and their fortune) in a land that was foreign and pitless. The discovery of gold in the 1890s sparked a rush to this region, but what settlers found was hot, harsh and unforgiving.
Both Loop Trails start in Leonora and a day for each route is recommended.
The Darlot Loop is 345km and takes in locations including the Terraces, Malcolm Dam, Sullivan Creek and the Granites. The Agnew Loop is 300km and takes you to places including Poison Creek, Leinster, Goanna Patch and the old mining settlement of Lawlers.
Each trail is peppered with 15 interpretative sites spaced roughly every 15-30 kilometres, so there are plenty of opportunities to stop off and see the sights. Look out for the interpretive panels and a rusty, steel figure waiting to share a story with you. Learn about coach roads, stock routes and the historic mines and pastoral stations that this area is famous for.
The landscape varies as you drive the trails, from dramatic breakaways to samphire flats, salt lakes, vast mulga plains and magnificent marble gums on spinifex sands.
Note: The majority of the Leonora Loop Trails is gravel, however, it's generally in good condition and suitable for a 2-wheel drive vehicle. If there has been significant rain, the train can suffer and a 4WD would be necessary. We'd advise checking with the local Leonora Visitor Centre before setting off.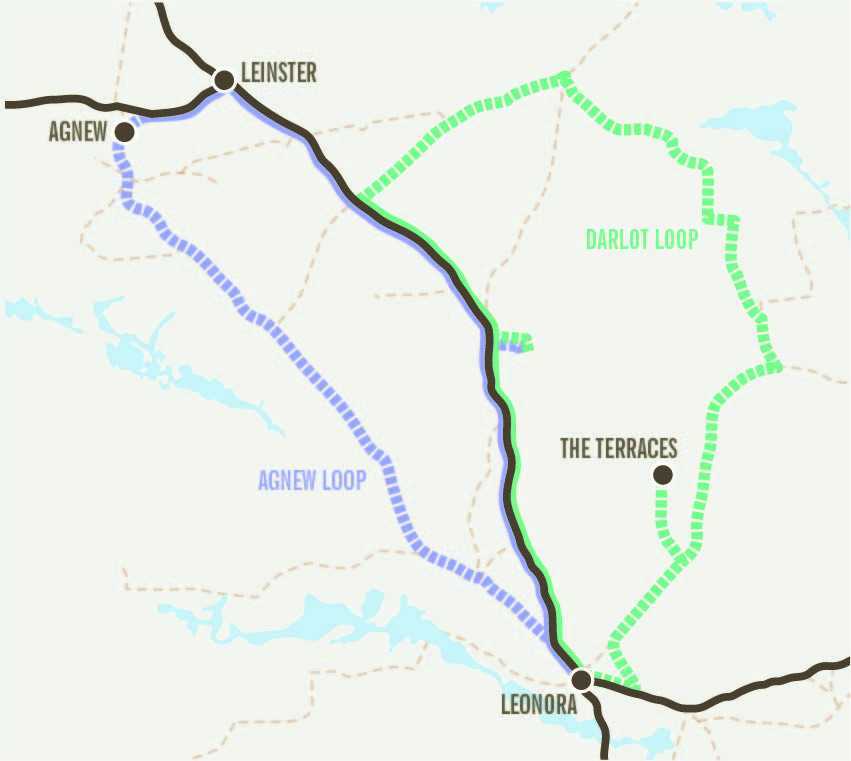 Buy The Leonora Loop Trail Guidebook
If you're heading off on the Leonora Loop, be sure to pick up a flyer, or even better a copy of the official Guidebook. The fascinating 90-page guidebook is available from the Leonora Visitor Centre and a range of Visitor Centres around the Goldfields.