Australia's Golden Outback: The Ultimate Haycation Destination

Check out of the city life for a few days and check into a stay that's raw, real, and rural. A haycation on a family-owned farm is good for the soul and a fast track to connecting with a more grounded way of life.
With a large portion of Australia's Golden Outback dedicated to agriculture, it's the state's leading farm stay region. It's also a prime stargazing region, the sparsely populated land causing little to no light pollution. Pack the car, pop on some hard-wearing denim, and spend a few nights at any one of these regional stays.
Mary's Farm Cottages
Located 300km from Perth, Mary's Farm Cottages are located near the Wheatbelt town of Kukerin. The farm produces crops of wheat, barley, lupins, and field peas as well as their flagship product, Cambinata Yabbies. You can experience activities all year round, including yabbie farm tours, tractor rides, honey tastings, and more. Visit from December to early January to see the crops being harvested, or from November to May for the main yabbie season. Stay at least the night in a two bedroom cottage to get the full farm experience - wake up to kangaroos grazing in the paddock and take a walk around the huge wheat bins and farm machinery.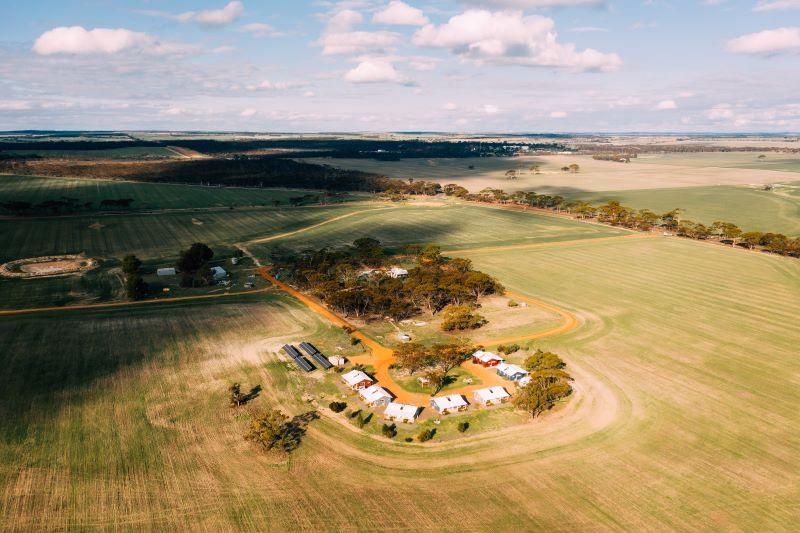 Chuckem Farmstay
A working merino sheep, oat, barley, canola, and lupin farm, there's always something happening around Christine and Bob Wiese's property, Chuckem Farmstay, 125km south of Narrogin. Visit sometime between August and October, and you can watch the annual sheep shear. Later in the year, grain harvest will be in full swing. You can try your hand at a spot of yabby fishing in the dam at any time, though summer will likely yield the biggest catch. Enjoy the fruits of your labour on the porch with a bottle of the nearby Downderry Wines rose to wash it down.
Heyscape Tiny Cabins
Not much bigger than your average caravan, Heyscape's 'Louis' cabin barely leaves a footprint on the 2000-hectare sheep farm it sits on. The tiny home is the epitome of serenity, with your closest neighbour — their other tiny cabin, 'Edna' — hectares away. No neighbours and the cabin's deep, open-air tub is a match made in rural heaven. Fill it with suds and sink in for one of the most unique stargazing experiences in the Golden Outback.
Note: The whole family is welcome to stay at Louis, the only dog-friendly haycation in the region.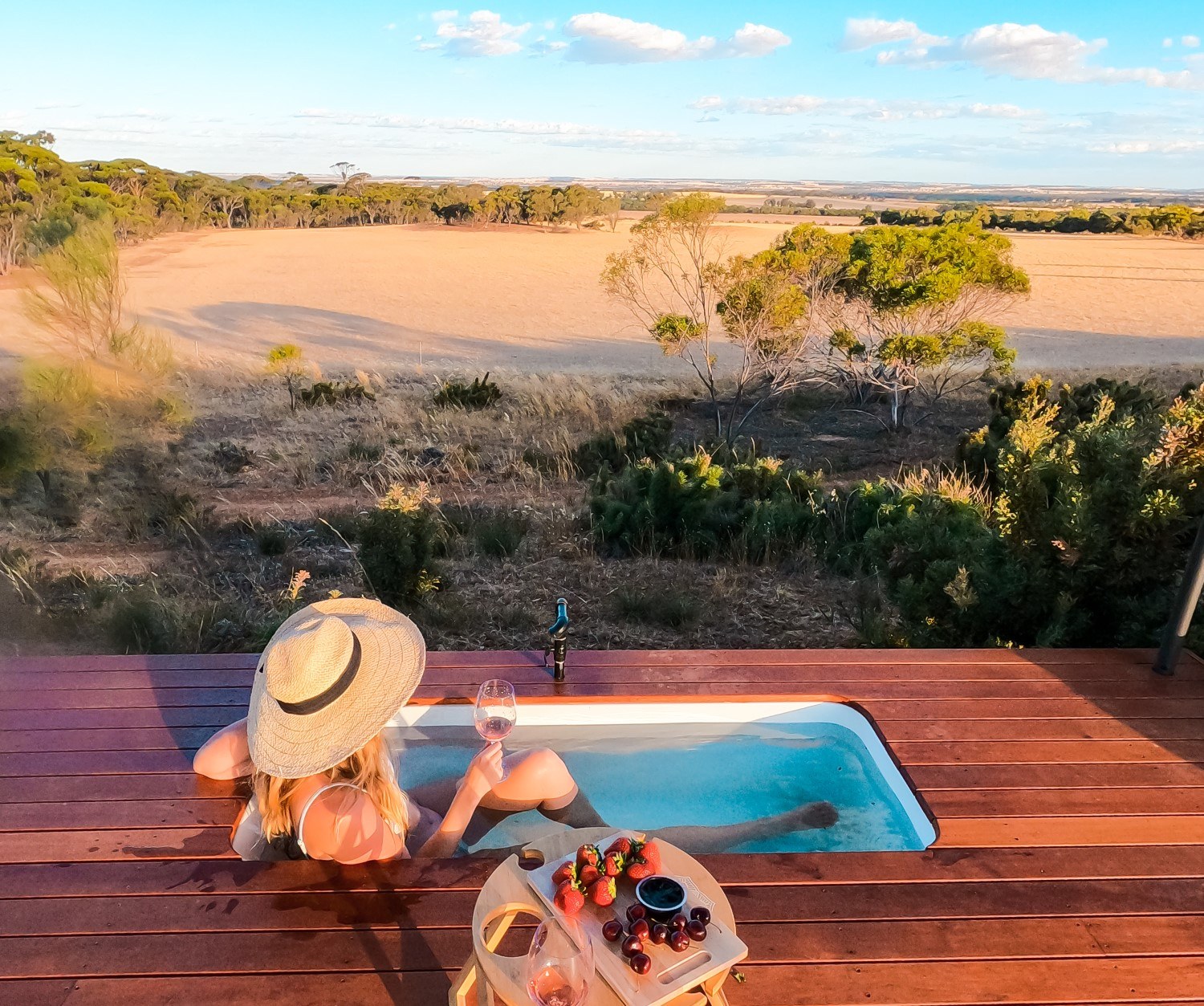 Barking Salmon Farm Stay
Picnicking in a shearing shed is the quintessential haycation experience. Book to stay at Mat and Jeanette Fegan's self-contained three-bedroom farmhouse, and they'll happily help to facilitate. In winter, they'll have plenty of cosy throw rugs and the fire roaring for you. In summer, you can move the setting outside to watch the sunset and the glittering milky way make its entrance.
By day, wander the Barking Salmon Farm Stay property to spot wildflowers and explore the granite outcrops. You can also get into the farm life by assisting with the morning milking and egg collection. Pop into Merredin, 20km away, to pick up some fresh bread and bacon to cook up with your bounty.
Ironbark Farm Stay
Wake to gently swaying fields of gold beyond your window at Ironbark Farm Stay, 20 minutes from Northam. It's canola country out here, a spectacular sight when it's flowering in early spring. At other times of the year, the farm's grazing cattle and sheep make up the three wooden cabins' vistas. Sit on the verandah in the late morning with an order of owner Lisa West's famous scones and tea to take it all in. Or, go for a wander to meet them, taking some feed for the property's pet sheep and geese you'll encounter along the way.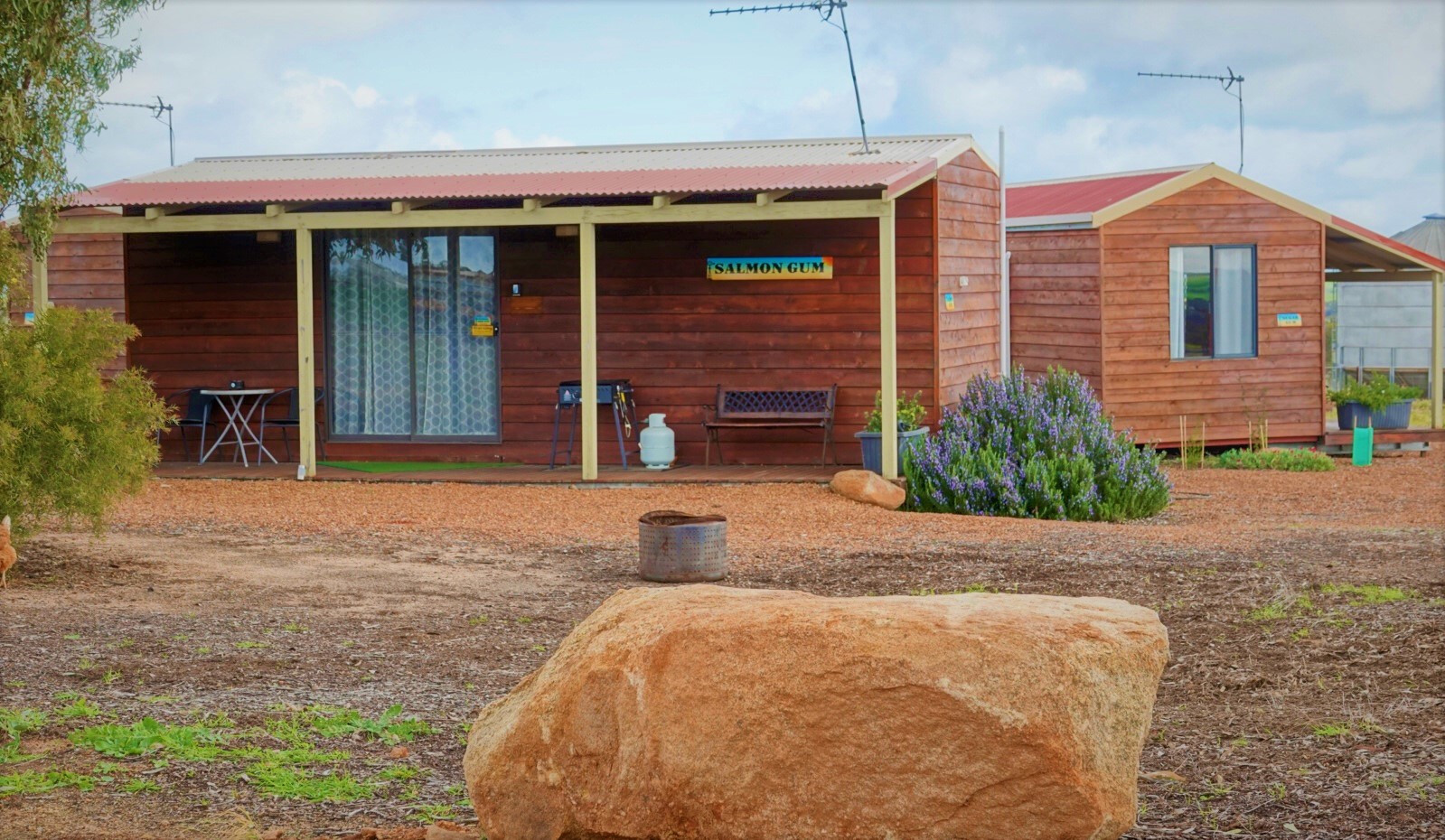 Mains Guest House
Not only is it a great shame to rush your way through the 1000 km-long PUBLIC Silo Art Trail, but it's also near impossible to do. Slow right down and take your time driving from town to town, mural to mural, stopping for a fuss-free overnighter at Corrigin's Mains Guest House. The three-bedroom, Colourbond-clad cottage sits on a small hobby farm just two minutes out of town, among a herd of alpacas and flocks of sheep and chickens. Bring your favourite bottle of wine and watch them grazing from the verandah before cooking up a barbecue feast as a golden glow settles over the farmland.
Nulla Nulla Farm Retreat
Feeding the farm animals is just the start of the animal experiences at Nulla Nulla Farm Retreat. Guests of Ron and Laura are welcome to assist in feeding the rescued wallaroos, kangaroos, emus, and lyrebirds at the onsite Parnana Pikurtu Wildlife Sanctuary for a small donation, too. If flora is more your cup of tea, wander through the 600 acres of granite rock and bushland to spot some local species. Spring is especially beautiful on the property, with wildflowers in bloom from as early as August. Post-walk, retire for the night in the comfortable farmhouse or queen-bed equipped bell tent.
Wave Rock
You're spoilt for choice when finding a place to lay your head near Hyden's pride and joy, Wave Rock. Stay at the Wave Rock Caravan Park, and you can unzip your tent to the cool morning breeze and views of the 15m-tall curved granite rock face just beyond. Surrounded by natural bushland, it's as close to nature — and the iconic rock — as you can get.
A few more dollars a night will afford you a little more comfort at either the Wave Rock Hotel or Wave Rock Resort. The former is in the town of Hyden, overlooking a billabong pool 3km from the rock. The latter is on Lake Magic's edge and home to the region's Instagram-famous salt pools, saltier and more buoyant than the Dead Sea.