Baladjie Rock
Baladjie Rock is a popular picnic spot near Westonia. It's very basic, there are no facilities here, so come prepared. The site is located on the sealed Koorda-Bullfinch Road, 42km north of Westonia and 55km north-west of Southern Cross. What it lacks in facilities, it makes up for in natural beauty - think extensive rocky outcrops, gorgeous woodlands and the Baladjie Lake Nature Reserve. A climb up the main rock affords a spectacular view over the lake system and surrounding landscape. Keep your eyes peeled for Ornate Dragon Lizards (Ctenophorus ornatus) who also call this area home.
Billiburning Rock

This Outcrop 35km north of Beacon provides excellent views of both cropping and pastoral country. The best time of year to come here is Spring (Sep-Nov) when there are masses of wildflowers. This site is also dog-friendly.
Beringbooding Rock

Beringbooding Rock, located on the corners of Beringbooding Rd and Cunderdin Rd 65km northeast of Mukinbudin, is a real gem if you enjoy exploring walk trails and natural attractions. Beringbooding has an amazing balancing boulder, a huge gnamma hole and Aboriginal hand paintings at the rear of the rock, painted by the Kalamaia Tribe. Wildflower fans will be happy in Spring as you'll regularly find flowering Pink Ti-trees, Heartshaped Leaf Eucalyptus, melaleuca, acacia, grevillea, hakea, calothamnus, eremophilia, cassia, Quandongs Sandalwood, and the native orchids flowering.
Elachbutting Rock

Elachbutting Rock could be known as Wave Rock's little sister! It has the same natural shape and also has numerous large caverns to explore. Elachbutting is located 100km northeast of Mukinbudin on the Elachbutting Rd. If you do stop here, make sure you all check out the Well. It can be found behind the rock and is extremely deep. The water seeps in at the base of the well through the rocks. This well is typical of wells that were built within this area and provided a natural water supply to the settlers.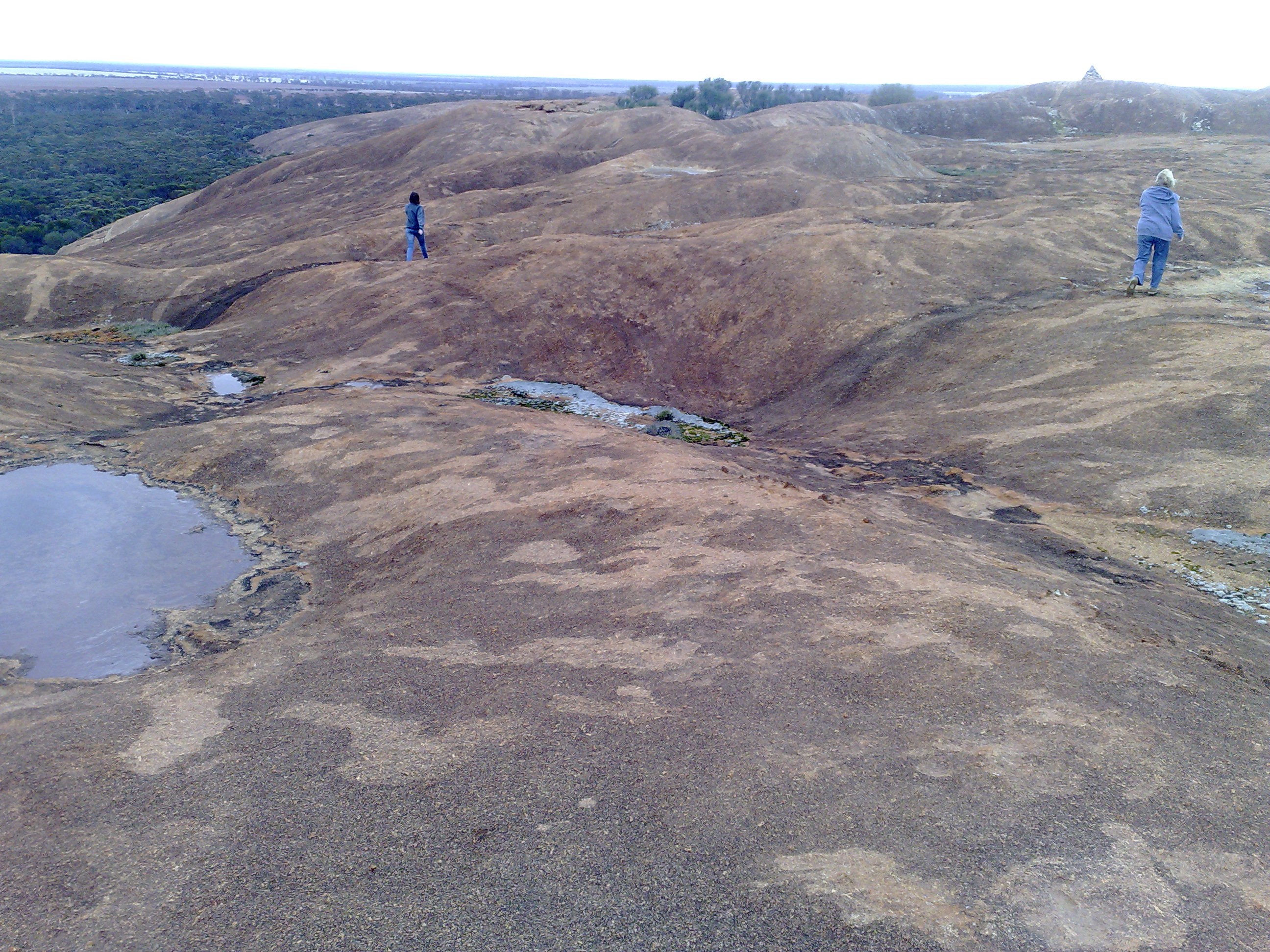 Karalee Dam
The Karalee reservoir is located 7km off the Great Eastern Highway 50km east of Southern Cross. A natural rock formation adapted to maximise the catchment, delivery and storage of rainwater that was essential in railway development to the Goldfields region. It is now a popular picnic spot and camping spot on the Golden Pipeline Heritage Trail.
Kwolyin - Kokerbin Rock

Kokerbin Rock is very beautiful and unspoilt area where you'll find heaps of natural attractions including a Wave Wall, Dog Rock and the Devil's Marbles – plus panoramic views across the beautiful countryside. You can't camp at Kokerbin rock; however, a free camping area has been developed at Kwolyin, about 9kms south of Kokerbin Rock, with toilets, a camp kitchen, BBQ and covered seating areas.